WinZip is an Industry-standard Zip utility. It can be downloaded at http://www.winzip.com.

Zip File Definition: A file comprised of one or more saved files, and shrunk for the purpose of minimizing file size(s).
Download the file from the above link. (General downloading info found here)
Once downloaded, double-click the file to begin installation.
There's several questions that it asks you as you install, I suggest that you accept all the defaults. When it asks you if you want to start WinZip in Wizard, or Classic Interface, I suggest Classic.
All Done :) If you ever want to find WinZip again, it's on the Desktop, in the Start Menu, In Start Menu->Programs->WinZip, however usually when you need Winzip, it'll start for you when you double-click a something.zip file.
There's two main ways that you'll probably use WinZip
Extracting files to your Hard Drive
Running a Setup Program in the Zip file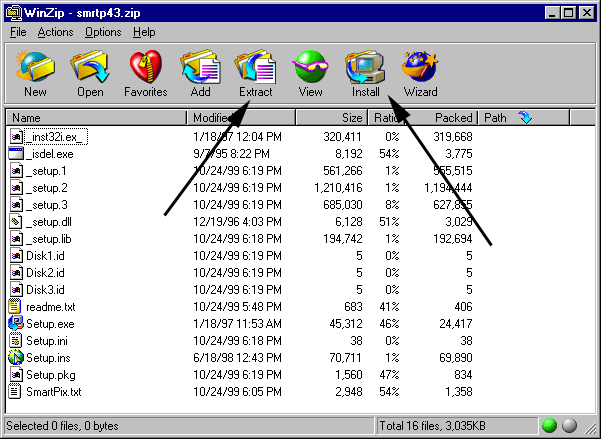 To Run a setup program from a Zip file
Open the zip file in WinZip (just double-click the file). If the second icon from the list (see 2nd black arrow above) will say Install we're set to go. (if it says Check Out, Extract the files manually)
If the second from the left Icon says Install, then click it. What WinZip will do, is Extract all the files to your temporary directory, and automatically launch the Setup or install program.
Once the setup program is completed, switch back to the WinZip program (you'll find it minimized in the Taskbar) and click the OK button to delete the temporary files. You're done!
To Extract Files from a Zip File
Open the zip file in WinZip (just double-click the file).
Highlight all the files that you want to extract (if you want to extract them all, you can either highlight them all, or highlight none and it will extract all by default.
The fifth icon (as indicated by the first black arrow above) is called the extract button. Click it. (you can also go under the Actions Menu, and choose Extract).
Check the three important things